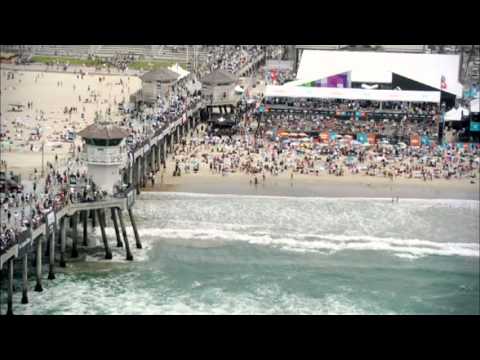 This weekend is the finals of the US Open of Surfing in Huntington Beach, California. This is the biggest surf competition in the world  and brings the best surfers and action sports athletes from all over. I recommend everyone to come check it out! I love coming every year and run into my pro-surfer friends, checking out the crowd , hot people, free stuff, and good music!
Check out some good music:
Music Schedule
Thursday, August 4      4:30-6:30pm    The Sounds featured with Walk The Walk
Friday, August 5         4:30-6:30pm     Jimmy Eat World preceded by Dead Country
Saturday, August 6     4:30-6:30pm     MGMT preceded by Surfer Blood
Check the contest online:
Nike US Open of Surfing Website.
Who you may run into… my favorite surfer:  Kelly Slater!
A little background about the US Open of Surfing: (from US Open Website)
US Open of Surfing Background
" The 2011 Nike US Open of Surfing will run from July 30 to August 7. With more than 500,000 people in attendance along a 14-acre stretch of sand on the south side of Huntington Beach Pier, the Nike US Open of Surfing showcases the best in surf, skate, BMX, music, fashion and art. All events at the US Open of Surfing are FREE and OPEN TO THE PUBLIC. Live webcast of all the events can be viewed daily at www.usopenofsurfing.com. Anchored by the world's largest professional surfing competition, the $460,000 US Open is a pivotal point on the ASP World Tour for both the men and women. The men's competition will feature a North America ASP Men's Prime event with valuable points on the line right before the coveted ASP Top 34 rotation. For the women, the US Open of Surfing will host the final event of the 2011 ASP World Title Tour and will potentially crown a women's world champion in Surf City this summer. In addition to the high-stakes mens and womens divisions, the US Open will feature an ASP Grade Four men's and women's Junior Pro as well as the Pacifico Nose Riding Invitational – always a crowd favorite.
The action doesn't stop at the shoreline. On the beach, Converse Coastal Carnage will once again host the most talented and diverse crew of riders from across the globe as they skate in a state-of-the-art skate bowl. And, a stellar crew of BMX riders will push the realm of possibility at the Nike 6.0 HB BMX Pro. The runway will be busy on Thursday, August 4 as five of the nation's top high schools will compete for $25,000 in the Hurley Walk the Walk National Championship – the ultimate youth fashion competition.
Combined with one-of-a-kind retail and brand experiences, more than 100 interactive exhibits, autograph signings, DJs and giveaways, and you have another summer to remember at the Nike US Open of Surfing.
The Nike US Open of Surfing is proudly sponsored by G-Shock, Skullcandy, Red Bull, Pacifico, Paul Mitchell Salon Haircare, Invisalign Teen and Transworld Media."  (continue reading at Nike Us Open of Surfing)
Directions:  ( I recommend you to go early! It's going to be packed! )
Huntington City Beach
1 Main Street
Huntington Beach, CA  92648
www.usopenofsurfing.com

Comments
comments